Okemah Indian Health Center
Tribal Services
The Okemah Indian Health Center serves enrolled citizens of federally recognized tribes. The clinic is located on the campus of the Okemah Community Hospital and is open Monday through Friday from 8 a.m. – 5 p.m.
Accreditations & Certifications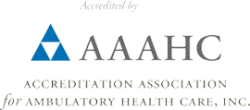 Services include: 
Primary care
Optometry
Dental
Laboratory
Radiology
Dental
Diabetes Prevention and Education
Dental services are provided off campus at 1509 W. Columbia in Okemah. Please call 918-623-3016 for an appointment.